Congratulations, again, to John Carroll University's Model Arab League Delegation, which was given the Overall Distinguished Delegation Award for its representation of Mauritania, at The National University Model Arab League Conference conducted at Georgetown University in Washington D.C. John Carroll was one of only four of the 23 delegations to receive the "overall distinguished delegation" award. In addition, two students were given Outstanding Delegate Awards, and four students were given Distinguished Delegate Awards. Student participants included: Zach Barr, David Berkeley, Francis Boccuzzi, Robert Call, Jacob Dzierwa, Ben Gebhardt, Anas Haroun, Yohan Joo, Olivia Pach, Morgane Picalion, Sami Rafidi, Jennifer Romanin, Jude Sayah, 
Maddie Tobolewski, and Mariella van der Sluijs
. Special thanks to Delegation Advisor, Professor Mona DeBaz of the Political Science Department, for all of her dedication and hard work in preparing students for this Conference.  And a special thank you to Dr. Mindy Peden, Chair of the Political Science Department, for traveling with the student participants to Washington D.C.

Model Arab League is a diplomatic simulation and leadership development program. It is designed to give students insight into the Middle East and Arab world as well as build critical leadership skills from public speaking to negotiation and compromise.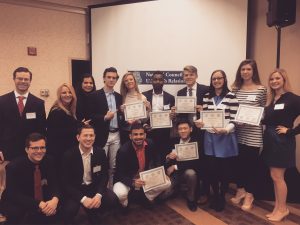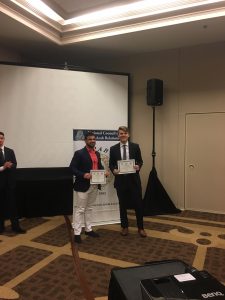 Ben Gebhardt & Sami Rafidi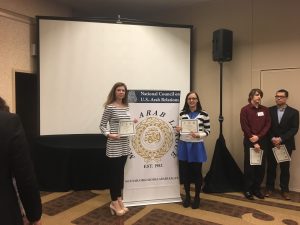 Olivia Pach & Mariella van der Sluijs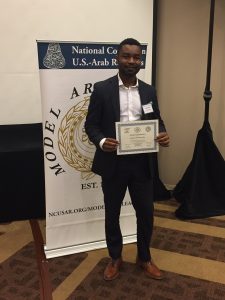 Anas Haroun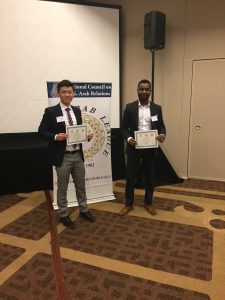 Anas Haroun & Yohan Joo